This week's ABC goes from last weeks home waters to continental Europe and the town of
Dinan

.
The best way to arrive is supposed to be by boat, along the Rance, but we took the old railway viaduct which now is the N176 to arrive at the 13
th
century ramparts. Enter the gate,
walk down narrow cobbled street and
become surrounded by 15
th
and 16
th
century half timbered houses. Some now converted into shops selling flowers but some
just displaying flowers. This citadel of
Dinan
has three kilometers of wonderfully preserved late medieval houses, Romanesque and Gothic churches, enough to feed the mind but also at least 30
cafes,
creperies
and restaurants, together with numerous cakes shops and a most wonderful '
il
gelato
Italiano
' shop, Le Pole
Nord
, selling more than 50 flavours of ice cream; what a perfect place to spend a dull showery day. No blue skies in these photos.
Despite being a tourist destination it manages to combine that with the air of a living and breathing working town. Some similar places such as
Colmar
seemed preserved in aspic and fully taken over by tourism, but
Dinan
,, possibly because its centre has no significant museum or art gallery, seems to have avoided that fate. It also has
little shops. This was shut for lunch but look at that
trompe
l'oeil
, well we are in France.
As well as
brilliant
colour in the stained glass of St Sauveur church it also has a cenotaph containing the heart of the knight Bertrand
du
Guesclin
, Eagle of Brittany, who spent much of his time fighting the English in the 100 years war. Parts of him are buried at four
different
locations, he may be in a bit of a pickle come The Resurrection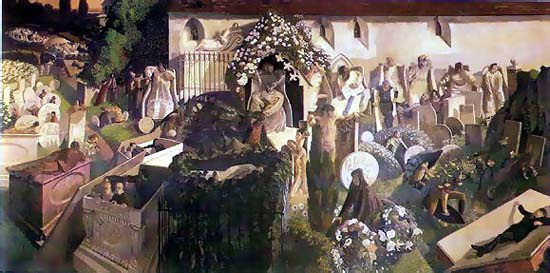 if it is like Stanley Spencer's Resurrection in
Cookham
Churchyard. But as we are surrounded by the past but amongst the living
there is still time to take the tourist train down to the river harbour or perhaps sit at the table and relax with a glass of wine.
Dash
over to
ABC Wednesday
meme to see more words beginning with the letter
D